Pools are great for daytime fun but they take on a whole new life at night. One of the hottest trends in pool lighting right now is LED pool lights and for good reasons – they look great and are very cost effective to use! Read on to find out more about exactly why these lights are so great. Anyone who has old halogen swimming pool lights will know how much of a nuisance they can be.
Other Concerns:
When replacing blown globes the halogen pool lights need to be put back together just right or else they'll leak and cause damage. Even putting finger prints on the globe is enough to cause premature failure of the halogen globe.
Ongoing Costs:
Replacing halogen globes can be costly in the long run, costing up to £40-£50 each for genuine globes.
Electricity consumption of halogen is up to 6 times higher than that of LED lights.
Advantages of LED Pool Lights Swimming
A wide variety of colours are available as well as pre-programmed feature modes
LED pool lights are much brighter than halogen lights approximately twice as bright
Use less electricity – only 15% of the power of a halogen light
LED Pool lights have a very long life span – up to 50,000 hours.
No globes to need replacing.
The savings in running costs will pay for the price of a new light very quickly.
Upgrading from halogen to LED
Niche/Flush Lights:
These halogen lights will need to be retrofitted/swapped with an equivalent brand/type of LED light because every brand has a different sized/shaped housing that is mounted into the pool wall. The most common niche in the UK is a Certikin PU9. The following led lights will fit:
Certikin PU9 Underwater LED Light Fits into the standard PU9 Niche.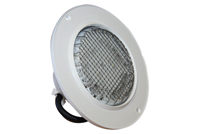 Seamaid LED PAR56 (Polycarbonate) Light range of LED fit most niches. It comes with a seal but it in most cases it is advisable to use your existing seal or a new seal which matches your niche.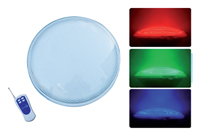 The DuraVision Spectra Replacement LED Lights (previously known as Spectravision Moonlight) range uses a sealed lamp so the niche is flooded so these led lamps can fit most niches, including PU9. They are also compatible with your existing 12V AC transformer.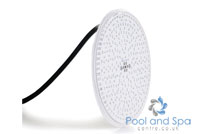 Benefits of LED Pool Lighting
With a vast array of pool lights on the market today, you may have a hard time choosing the most appropriate lights for your pool. Incandescent lights, halogen, solar, Fibre Optic Lighting and LED Pool Lights are some of the most common and frequently used options. While each type of pool light carries similar functions and purposes, each have their advantages and disadvantages. LED lamps are the best option if you want to illuminate your underwater space while concurrently adding ambience to your deck or patio space. LED lights are waterproof and can even be used above water as well as below. Because of this fact, many pool owners are removing their old pool lights and replacing them with LED.
The major reasons behind upgrading existing pool lights to LED include low maintenance, energy efficiency and brighter lighting underwater and,unlike other underwater lighting systems, LED lights have colour changing options.
LED pool lights cost slightly more than traditional pool lights in the initial system installation, however, the money that you save in the long run from lowered energy costs in addition to durability and longevity is well worth the price. Since LED pool lights only consume a fraction of the costs, energy savings are in upwards of 80% in comparison to incandescent or halogen pool lighting systems. However, after initial start-up costs, only the bulb replacement may be necessary and ranges from £75. Maintenance is also miniscule. Unlike incandescent lighting that dumps up to 90% of its own energy, LED lighting consumes little to no heat which consequentially extends its life span to approximately 8 to 15 years. Therefore, instead of constantly replacing the bulbs, you may spend money on bulb replacement maybe every decade over other systems.
LED operates without glass, filaments or any tugging, making lights resistant against vibration and more capable of absorbing shocks. For
smaller underwater spaces like spas and hot tubs, LED lighting is even easier and less expensive to build. Additionally, these smaller spaces are also less vulnerable to outside radicals including wind, dust, and vibration. With more concern about the environment, many pool owners are also looking for greener components to incorporate into their pool systems.
LED swimming Pool lights are extremely environmentally friendly and do not contain any components or after effects that harm the environment in any way. Safety is another issue to explore when opting out of traditional incandescent or halogen pool lighting. LED lights are equally safe when submerged in the water or outside of the water. With the help of a transformer, the electric shock value is almost equal that of a car charger with up to 12 volts of power, thus enhancing the LED safety feature. Whether you are looking to install an underground pool, are exploring your options, or are looking to replace your current pool lighting system, rest assured that LED lighting is a pliable option to explore. With less energy output, bulb longevity,safety, value, and environmentally friendly features, LED pool lights are an option worth exploring.
What is LED Pool Lighting?
LED stands for light emitting diodes and LED pool lighting is quite simply a type of light that is designed to be used either in or around your pool in order to illuminate the water itself as well as the area around it. This illumination is necessary for safety (so people can see at night time) plus it creates an ambience around the pool. LED pool lights come in different configurations and they include niche mounted lights, surface mounted lights, and floating pool lights. The lights themselves are sealed and are leak proof so you don't have to worry about the water causing any issues.
Why is LED Pool Lighting Such a Great Choice?
LED pool lighting is becoming ever more popular for a number of reasons. Firstly LED pool lights use very little power when they are running (up to 14 times less than a standard halogen globe). As well, they produce a nice, bright light, effectively illuminating the pool with fewer lights han you may otherwise need. LED globes themselves last for an incredibly long time (up to 100,000 hours), so you will seldom have to change them. You will also find that LED pool lighting gives you more flexibility in your pool lighting designs. LED pool lights are available in standard blue or white colours but if you want something totally different, you can actually choose to install multi coloured LEDs - blue, purple, red, green, orange, aqua and white. You can set the light to the colour of your choice or you can have the lights cycle through the different colours at a predetermined interval. Multi coloured LED pool lights can be operated by a remote or a switch, depending on the system.