Aquasparkle Hot Tub Conditioner Aqua Sachet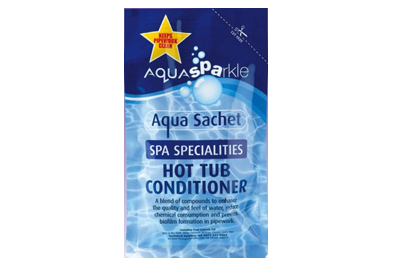 There are currently 198 in stock
Aqua Sparkle Hot Tub Conditioner Aqua Sachet is a single use sachet treatment containing a blend of compounds which will enhance the quality and feel of spa water and prevent Biofilm forming in spa pipework.
This Hot Tub Conditioner also contains lavender oil for an enhanced bathing experience. For best results use Hot Tub Conditioner weekly.
Instructions
Maintain sanitiser and pH levels within the desired operating ranges.
On opening the sachet with the "scissors cut area", pour the whole sachet of Hot Tub Conditioner directly into the hot tub water.
For optimal results Dose weekly:
One 80ml sachet per 1,000 litres (220 gallons) of spa water.
One 120ml sachet per 1,500 litres (330 gallons) of spa water.
Note: Shake well before use and as Aqua Sachets cannot be re-sealed the whole sachet must be used in one treatment.