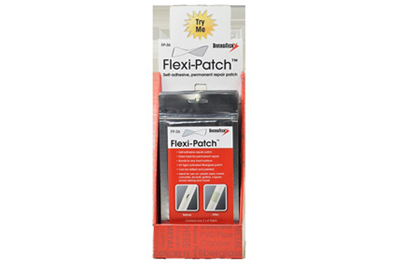 The Flexi-Patch is an easy to use 3" x 6" self adhesive, fiberglass reinforced, flexible repair patch ideal for repairing almost any surface. The patch cures quickly using only UV light either from sunlight or a UV flashlight (not included) and dries hard for a long lasting, permanent repair. The resulting patch can be drilled, tapped and painted if needed once dry.
Features
Extremely durable .
Flexible and waterproof.
Weather and UV resistant
Temperature safe from -30 degrees, up to 185 degrees Celsius.
Will not shrink or expand during or after application.
Bonds to all hard surfaces except polypropylene.
Cures quickly, as fast as 5 minutes in direct sunlight.
Ideal For
Ideal for use on PVC, plastics, metal, wood, concrete, and more.
Instructions
Ensure surface is clean and free from contaminants.
Cut Flexi-Patch to desired size (do not expose to UV or sunlight).
Remove the white backing tape to expose the sticky resin.
Apply Flexi-Patch to repair area with sticky side down.
Remove top transparent film, press firmly and expose patch to UV sunlight or UV flashlight if using patch indoors.