Domestic Custom Pool Liner
Bespoke domestic pool liners. Prices quoted per sqm. The prices are a guide for a rectangular hopper/wedge liners for a 3 feet 4 inch wall height. Thickness of liners are 30 thou (0.762 mm). Adriatic Blue and Mosaic Tile are available in 20 thou (0.508 mm).
Plastica is the most experienced Pool Liner manufacturer in the UK, They have been an established Liner manufacturers since 1976. No other UK Liner manufacturer has our wealth of experience. No matter what shape or size of pool, They know how to make perfect Pool Liners, time after time, after time.
We have a huge choice of Liner patterns from the ever popular Marble and Mosaic Liners, to the contemporary Delphos and Olympus Ochre Liner patterns, Plastica have the range to ensure the colours and patterns bring out the very best in your pool.
Plastica Liners are produced at the UK's largest swimming pool manufacturing facility. Our 100,000 sq ft manufacturing plant is equipped with a state-of-the-art CAD system integrated with our computerised Plotter/Cutters.
Our high quality material is manufactured in Europe by Renolit. The quality of our product is unrivalled. With a 5 year guarantee, our Liners offer lasting beauty and durability.
5 Year pro rata warranty
Material is impregnated with algicide
Each liner is embossed with a serial number for hassle free replacement
Material samples available
Choice Plastica or Certikin manufacture options available
Plain & Patterned Liner Colours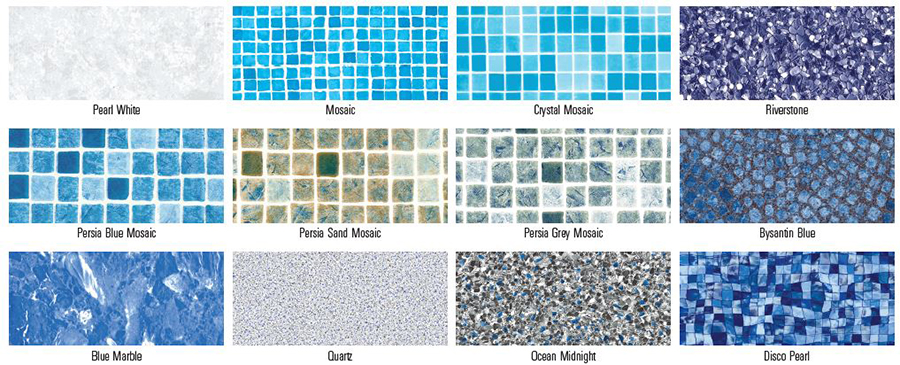 How To Order
If you wish to order a replacement pool liner, you can complete our quotation form Liner_quotation_form.pdf which lets you choose from a different range of pool shapes. You will need to identify the dimensions and the shape of your pool.
Choose your pool shape and fill out the measures of each side either in metric or imperial. Once this is completed you need to choose the thickness of the liner and underlay requirements.
Also please state which colour liner you would like. When you are happy with your quotation form, email the form back to us and we will try to get a size and price back to you as soon as possible.
Manufacture time is usually 3 - 5 working days.
Liner Tile Bands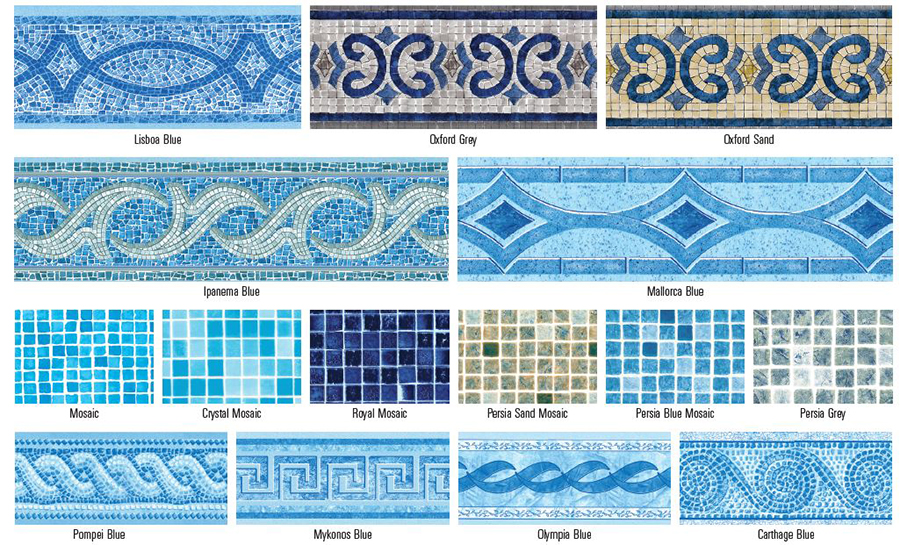 Can Be Used With
Points to consider on all swimming pool liners
Ensure the surfaces you are installing the liner on are compatible with PVC materials.
Do not install in temperatures less than 10°C as the material will become stiff and difficult to fit.
Due to the material being flexible during the printing and cutting processes, patterns may not match along the weld lines or cut edges.
Aesthetic finish is not accepted as a warranty issue.
One or two vertical welded joins in the wall are unavoidable and placed at our discretion unless instructed at time of order.
Patterned materials may show a thin white line along the weld edge. This is unavoidable due to the white base material flowing during the weld process and is a normal part of a good weld. This is not accepted as a warranty issue.
Swimming pool liner colours shown in print may vary slightly from materials received. Every effort is made to match patterned material colours but these naturally vary, even within the same batch.
Swimming pool liners requiring complex drawing or manufacturing may be subject to additional lead time (five days maximum).